Will I get to keep all the photos?

Of course you do! You've paid us to be there to cover all your moments, and we want to make sure you get to enjoy every last one of them!

Will my photos be watermarked?

None of your photos will be watermarked. Although you do not have to come back to us for prints, we would be more than happy to help guide you to some of the best printing services.

Do you have back-up equipment?

Yes, we do! And back-ups for our back-ups! We always bring 4-5 cameras to each wedding. In the unlikely case that one camera ever goes down, we'll always be ready with another.

What is the difference between an associate and principle photographer? 
Experience and time behind the lens. We work with each associate for years, training them to shoot with expertise in alignment to our vision.

When will I get my photos and video?

Usually between 6-8 weeks after the wedding (depending on the season).

I'm extremely shy in front the camera. What can you do to help me out?

We're all about building comfort level when it comes to shooting your wedding. We'll meet ahead of time, talk about ideas, learn more about you, and try our best to make you feel comfortable during each shoot. Truth be told, most people take about 45 mins to warm up to the camera anyways, so you are not the only one! Before you know it, you'll most likely find yourself relaxed and having a ton of fun in front of the camera!

How far in advance should I book your team?

Most people book 1-1.5 years in advance. The earlier you book, the sooner you'll be able to reserve the creative talent you are looking for. If you wait until the last minute, you will not be guaranteed your first choice of photographers.

What makes you unique in this saturated world of wedding vendors?
The experience at Devi is fun, unique, and one of developing a friendship with your photography team. We care about you and about your photos. Above and beyond the wedding day, we invest our time and energy getting to know you, both individually and as a couple. Our creative collaboration sessions are great examples of this. As we put in the time to develop your concepts, style etc., we make it a point to walk you through the entire process.
A heartfelt thank you…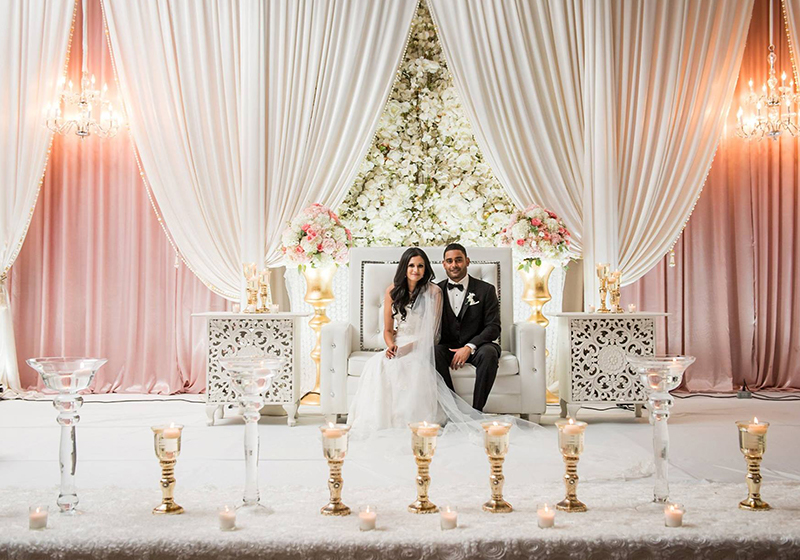 Sangeeta and Rishi and their team are fantastic photographers and people! Darryl and myself loved their energy, their ability to melt into your family and guests and make you feel so comfortable. I have never seen so much passion in vendors and want to get married all over again just to work with them. Thank you guys!
~ Ruby Rahim-Fernandez